Opportunities arise annually within the local Ohio State community as well as within Triangle's national organization for award winning and recognition.
Triangle Fraternity's national awards recognize active chapters for their accomplishments, improvement, and achievements. Additionally, individual students, alumni, and volunteers are honored for their leadership, dedication, and service to the fraternity. Learn more on the national organization's website.
Sorority and Fraternity Life (SFL) within The Ohio State University's Office of Student Life hosts an annual award ceremony to recognize the contributions of chapters and individuals that have exceeded fraternal expectations. Learn more on the SFL website.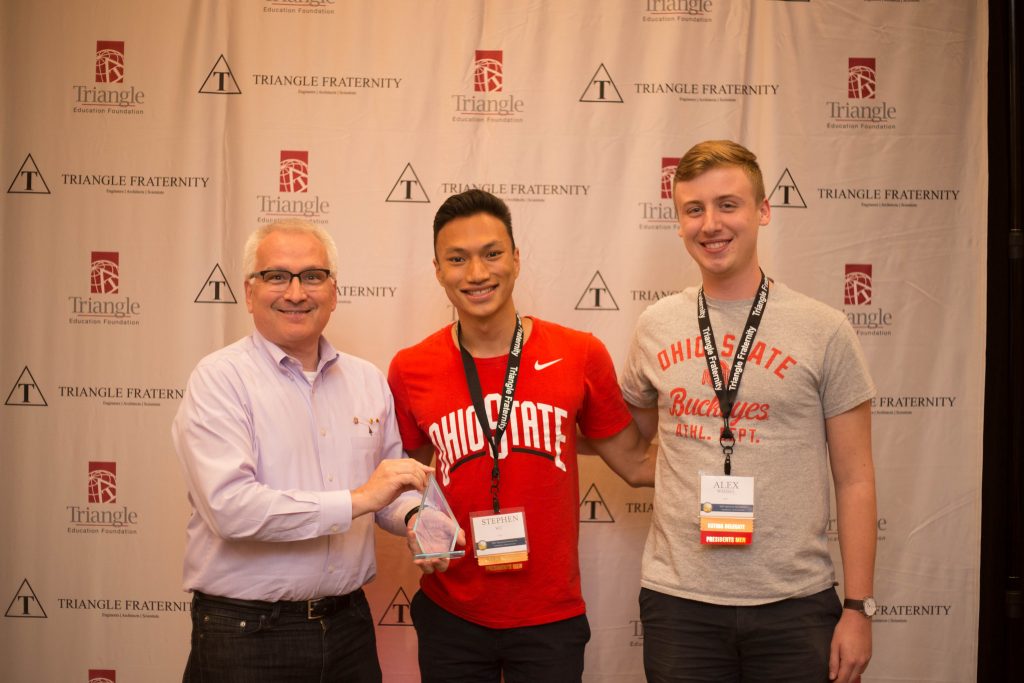 National Awards
Larry and Judy Garatoni Building Better Men Program Award (Second Place), 2022 Triangle National Convention
Highest Chapter GPA (Second Place), 2022 Triangle National Convention
Ohio State Awards

IFC Chapter of the Year, 2022 Sorority and Fraternity Life Awards
IFC Member of the Year (Jackson Clark os19), 2022 Sorority and Fraternity Life Awards
Outstanding Marketing and PR, 2022 Sorority and Fraternity Life Awards
Outstanding Member Development Program, 2022 Sorority and Fraternity Life Awards
Outstanding Academic Mentor (Joseph Hughes os19), 2022 Sorority and Fraternity Life Awards
Outstanding University Involvement (Jacob Chang os18), 2022 Sorority and Fraternity Life Awards
Outstanding Service Initiative, 2022 Sorority and Fraternity Life Awards
Excellence in Innovation, 2022 Sorority and Fraternity Life Awards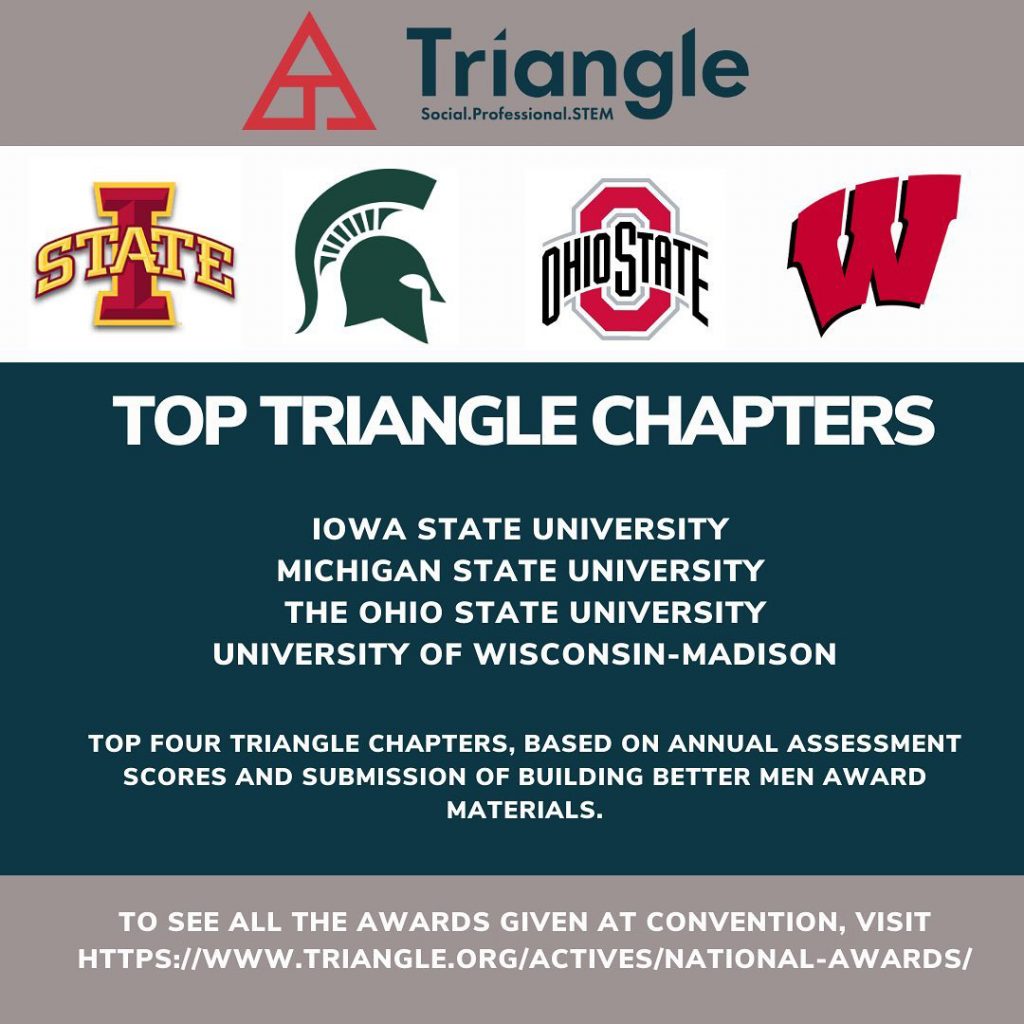 National Awards
Top Four Triangle Chapters, 2021 Triangle National Convention
Brother of the Year (Tommy Balaj os17), 2021 Triangle National Convention
Chapter Advisor of the Year (Joe Kay os13), 2021 Triangle National Convention
Brother of Distinction (Joe Kay os13), 2021 Triangle National Convention
Ohio State Awards
IFC Chapter of the Year, 2021 Sorority and Fraternity Life Awards
IFC Outstanding Philanthropy Initiative, 2021 Sorority and Fraternity Life Awards
Outstanding New Member Program, 2021 Sorority and Fraternity Life Awards
IFC Excellence in Health and Safety, 2021 Sorority and Fraternity Awards
National Awards
Chapter of the Year, 2019 Triangle National Convention
Larry and Judy Garatoni Building Better Men Program Award (Second Place), 2019 Triangle National Convention
Prize money of $25,000 donated to Cal Poly Pomona chapter
Kahlert Academic Excellence Award, 2019 Triangle National Convention
Outstanding Risk Reduction & Education, 2019 Triangle National Convention
National Awards
Highest Chapter GPA, 2018 Herbert Scobie Leadership School
Most Improved GPA, 2018 Herbert Scobie Leadership School
Ohio State Awards
IFC Highest GPA Autumn 2018, 2018 Sorority and Fraternity Life Awards
National Awards
Outstanding Chapter Operations, 2017 Triangle National Convention
Kahlert Academic Excellence Awards (Third Place), 2017 Triangle National Convention
Most Improved Academic Performance, 2017 Triangle National Convention