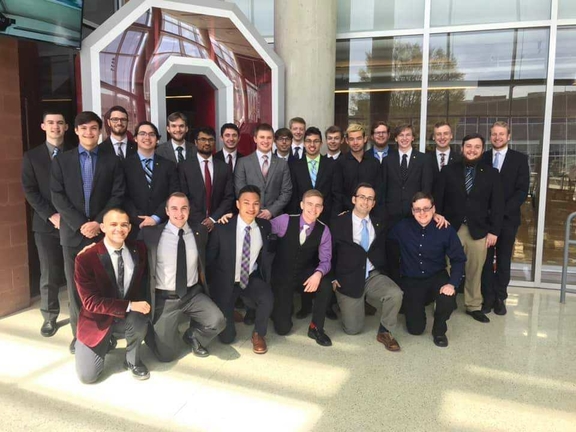 Brothers at the 2019 Founder's Day Banquet
As of Spring 2020, there were 26 active brothers spanning 12 majors. Check out our 2019 Founder's Day updates!
Recruitment
Triangle seeks to recruit balanced men who value honesty and integrity who strive for academic and professional growth. Students must be in an engineering, science, or architecture-related major with at least a 2.75 GPA to be eligible to rush (average: 3.60).
For more information about recruitment, please contact our current Recruitment Chair, Cal Flory [.93] and check the main page for rush season info!
Executive Board 2021

Jackson Clark [.3139] President
Parker Spielvogel [.8] External Vice President
Derek Ho [.480] Internal Vice President
Yousef Osman [.293] Social Chair
Josh Wiggins [.162] Brotherhood Chair
Will Shoaf [.46] Philanthropy & Service Chair
Cal Flory [.93] Recruitment Chair
Shawn Berry [.782] Secretary
Joey Hughes [.1792] Treasurer
Recent Awards
Garatoni Building Better Men Award ($25,000), 2019 Triangle National Convention
Chapter of the Year, 2019 Triangle National Convention
Kahlert Academic Excellence Award (#1 GPA of all chapters), 2019 Triangle National Convention
Outstanding Risk Reduction and Education by a Chapter, 2019 Triangle National Convention
1st Highest Semester & Cumulative GPA Across All Fraternities, Autumn 2018 Ohio State IFC
Highest Chapter GPA, 2018 Herbert Scobie Leadership School
Most Improved GPA, 2018 Herbert Scobie Leadership School
2nd Highest Semester & Cumulative GPA Across All Fraternities, Autumn 2017 Ohio State IFC
Highest New Member Semester & Cumulative GPA, Spring 2017 Ohio State All-Greek
Outstanding Chapter Operations, 2017 Triangle National Convention
3rd Highest GPA, 2017 Triangle National Convention
Most Improved GPA, 2017 Triangle National Convention
2nd* Highest Semester GPA Across All Fraternities, Autumn 2016 Ohio State IFC
Highest New Member Semester & Cumulative GPA, Autumn 2016 Ohio State All-Greek
* = Tied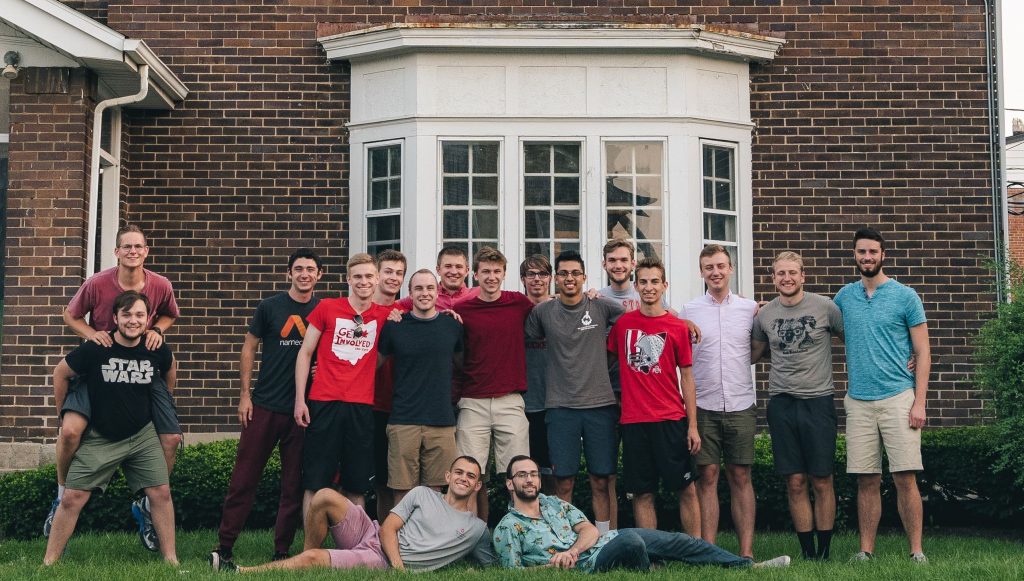 Brothers after moving into the new house on 12th Avenue